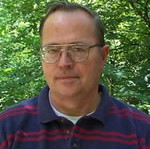 William Schaich
Emeritus Professor
Education
Ph.D., Cornell University, 1970
M.S., Cornell University, 1968
B.S., Denison University, 1966
Schaich's work has concentrated on problems of electrodynamics near surfaces, with the goals of both fundamental understanding and contact with experiments.
Over the last two decades, we have developed simulations using the finite-difference-time-domain (fdtd) method. These solve Maxwell's equations on a discrete mesh in both space and time. With all these codes one can study both far field properties (like reflection, transmission, and absorption) as well as near field properties (like field and current distributions). These studies have been used to design and interpret several experiments.

We have also broadened our interests to consider the response produced by alternate probes and targets. For instance we have made movies showing how a light pulse behaves as it enters a negative index material and have adapted our surface scattering approach to treat how neutrons are scattered by a diffraction grating. Recently we have examined the optical scattering of virus-like particles, which can reveal new behaviors that provide both practical and conceptual advances.
"Wavepacket propagation into a negative index medium", Am. Jour. Phys.

 

72, 1232 (2004) with X Huang.
"Three-dimensional mapping of the light intensity transmitted through nanoapertures", Nano Lett.

 

5, 1227 (2005) with D. Amarie, N. D. Rawlinson, B. Dragnea, and S. C. Jacobson.
"Optical field enhancement at cusps between adjacent nanoapertures", Nano Lett.

 

7

 

557 (2007).
"Second harmonic generation by periodically-structured metal surfaces", Phys. Rev.

 

B78, 195416 (2008).
"Dynamical theory calculations of spin-echo resolved grazing-incidence scattering from a diffraction grating", Jour. App. Phys.

 

110, 455 (2010) with R Ashkar,P. Stonaha, A. L. Washington, V. R. Shah, M. R. Fitzsimmons, B. Maranville, C. F. Majkrzak, W. T. Lee, and R. Pynn.
"Tuning infrared emission from microstrip arrays", Phys. Rev.

 

B86, 245423 (2012) with I. Puscasu.
"Toward virus-like surface plasmons strain sensors", Jour. Phys. Chem.

 

120, 5896 (2016) with M. Zahedian, X. Huang, I. B. Tsvetkova, V. M. Rotello, and B. Dragnea.
"Radiation brightening from virus-like particles", ACS Nano

 

13,11401 (2019) with I. B. Tsvetkova, A. A. Sushma, J. C-Y. Wang, and B. Dragnea.